What is YOUR Overnight Success story?
I've had an unconventional journey to now hosting the largest tech events in Europe. You might be surprised by this but I don't chase things. I have not become a professional speaker and Emcee by having chased this career outcome. While no two success stories are the same, I do believe that sharing my story can help you find courage along your own path towards realizing your dreams of becoming a better communicator and landing your first paid speaking gig.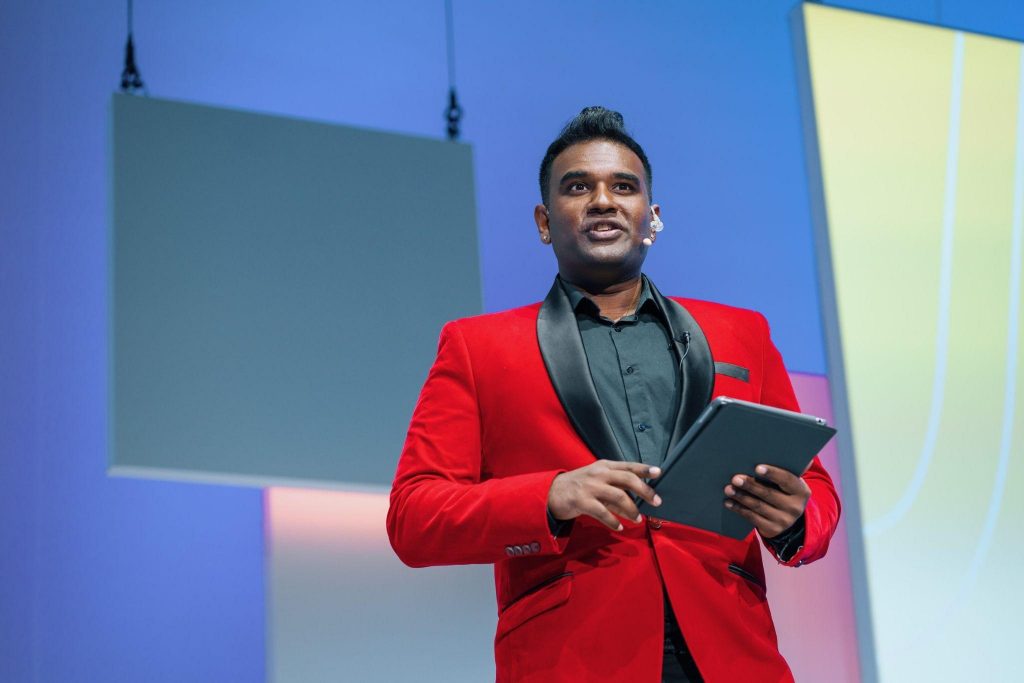 There are two types of 'doing life'. Either you set a goal and then are determined to do whatever it takes to reach that goal. Or you stick to the track that you think is authentically and genuinely YOU and what is meant to be will show up on your path.
While I have respect for both of these methods and have seen amazing success stories from both, I am more inclined toward the latter than the former. I believe strongly in alignment and the starting point in my speaking career was no different than the starting point of most other people. You probably remember being back at school and being asked to read a passage out of a book or to give a presentation. That was my starting point and we all have the same starting point. The difference was, I was terrible at it. I had a stutter, I was socially very shy, very introverted. I did not talk to people, I could not even make eye contact and worst of all I had a terrible accent as a child.
Growing up in so many different countries I had this very confused North African, French, British accent and it wasn't cool. People would laugh at me and I hated that they laughed at me and NOT with me. So, I avoided those circumstances until I decided one day, I'm bad at this, what can I do to get better.
So, I started practicing and I made sure I got better and better as a speaker. But my focus at first was just in the classroom. Then at church, I had a similar journey. When the pastor asked if someone could read the passage from the Bible I would never put my hand up. But if they gave me the passage beforehand, I would take that passage out a few days before and start practicing. I eventually started memorizing the passages because I had practiced so much. I soon realized if the passage was memorized I could focus on my delivery and not just barely reading the words. All the kids who were good at reading passages, didn't have to practice. They would just show up, flip the bible open, and read it for the first time in the moment. But then I would come out there and would perform it.
By overcompensating I actually started to get better than the kids who were naturally good at reading out loud. I transferred the same habit of practicing before I spoke in public and continued growing in my abilities at summer camps and family retreats. When we had to organize games, instead of just winging it I would really plan and go the extra mile, because I was so nervous. And over time, I continued to naturally get better than everyone else.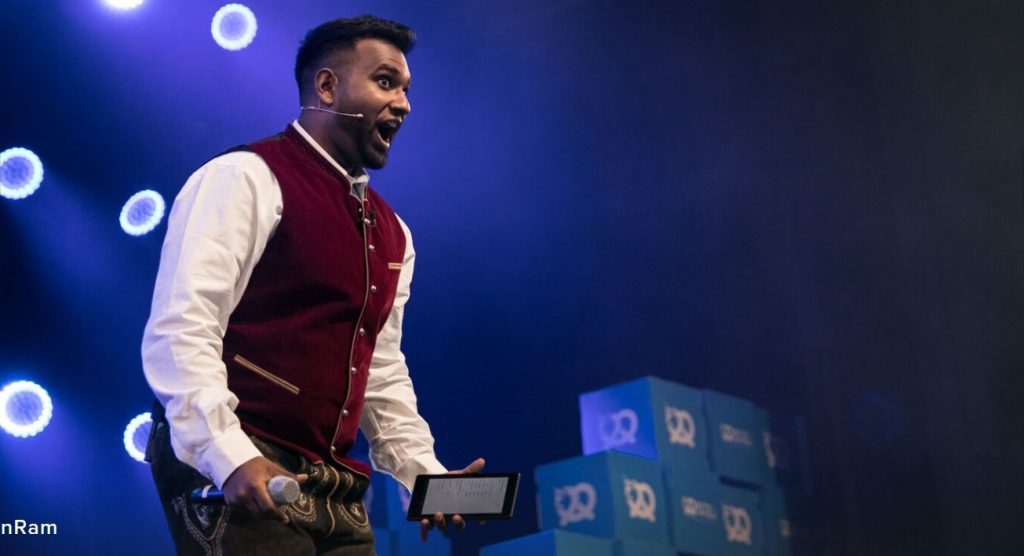 Because I was so fearful of speaking in front of an audience of my peers, classmates, friends, and family I put in years and years of practicing. After giving myself numerous opportunities to get up and speak, I began to overcome what I perceived as a weak trait and I courageously ended up volunteering at a tech conference. A year earlier I competed in their pitch competition,and lost and the following year I was asked to return to emcee it. I offered to do it for free because I wanted to watch the new competitors pitch their ideas.
I still had butterflies in my stomach every time I got on stage and so my fear pushed me to practice every introduction. I thought about how I was going to show up on stage. I thought about what I'd wear. I thought about the technical aspects that could go wrong while I was on stage. I had back up plans for every possible tech failure. I was so thoroughly prepared that I really impressed this lady who walked by the stage. She was from Germany and said 'Dan, Love your energy on stage and I'm gonna give you a call tomorrow.' True to her German stereotype she called me the next day with an offer. She had a small event in Munich and she invited me to emcee the event. My excitement was through the roof but I wasn't ready for her next question.
She asked, 'what would be your offer?'
I had no idea what that even meant because I had another job at the time and I was building my own startup so I didn't think of the opportunity from a financial perspective. My naive response was to simply ask if they would be kind enough to book me a place to stay while I'm in Munich and I could arrange my own flight. To my continued surprise she responded back letting me know she would arrange both a 5-star hotel and my flight. She then followed with the question,
"I want to know how much we should pay you?"
I wrote back expressing my gratitude for the opportunity to travel to Munich and to interview celebrities while also conveying that THAT would be enough payment. To which she replied, 'this is Germany and the board won't approve it unless you give a price.' So I thought ok how about 100 Euros and she kindly told me that the amount wasn't enough.
So my first paid speaking gig in Germany paid me 500 Euro! I was over the moon with excitement and thought 'this is INSANE' not only do I get to be onstage with celebrities they've thrown in the added bonus of a flight, a 5-star hotel AND I get PAID!! Of course, as you can imagine, I said YES and that now is the tale of my first paid speaking gig. My fees have increased a bit since that first paid event because I bring a lot more to the table now, but that is how it all began.
Conclusion
We can easily be discouraged when we are bombarded with Overnight Success stories. The reality is what appears to happen 'overnight' is the result of a lifetime of preparation and practice. I prefer the philosophy of success that presents it as the beautiful intersection point where preparation meets opportunity. Opportunities are not as far off as you think, they are all around you. If you honor rather than demean your opportunities you will find more doors will open down the road. If you are determined to be extra prepared for what may seem like an ordinary opportunity and couple that with a growth mindset, a positive attitude, and a grateful spirit THIS will lead to the alignment of your path with your purpose.
---
---
Dan Ram ignites the stage as an in-person event and virtual event MC/ Moderator & Speaker at over 100 events a year. He has shared the stage with international luminaries including President Barack Obama, Sir Richard Branson, Reid Hoffman, Nico Rosberg, and Grammy-winning artists and celebrities. He has also been recognized as a Top 40 under 40 leader 2020 as well as a Top 100 Yale Alumni in Technology 2021. Level up your communication skills through his course and mastermind "Speaking Success". His passion is to inspire people with his motto 'Start Now Start Simple' in building a future we all want to live in.