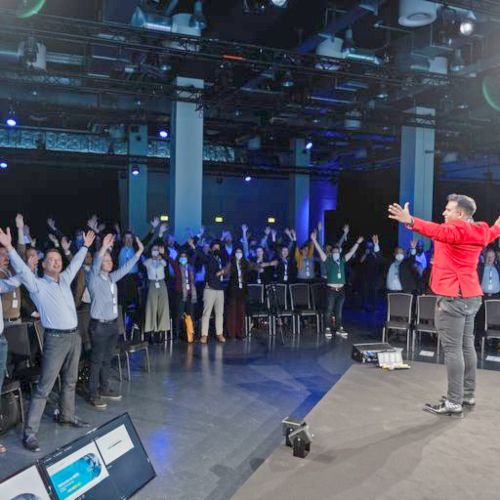 Interactive & Informative
Whether Zoom webinars with Fortune 500 companies or in-person trainings with accelerators in funky coworking spaces, be prepared to learn by doing. Group activities, personal challenges, worksheets and abundant sticky notes are part of half-day, full day and 3 day training sessions.
Popular Workshops
♦ Dominating a screen/stage:

Storytelling, effective practice techniques, dealing with anxiety and stage fright, confident body language, and more to communicate your next pitch/presentation effectively

♦ Start With Why:

Based on Simon Sinek's Golden Circle concept, this workshop helps startup teams identify and communicate the core of why they do what they are doing.

♦ Attention in the 21st century:

current and immediately applicable tips on understanding and harnessing the power of social media to create a movement and not a sales pitch
Absolutely trans-formative experience for our presenters at the last minute. When the ship turns from a Face to Face event to a Live Virtual, we all scramble to make it work presenting in a little square video box instead of on a big stage. Dan helped make over 300 of our presenters get comfortable and ready to present live. The event was amazing because our presenters and our hosts were engaged, animated, and ready with all the tools they needed to move to a virtual world.?
MICHELLE LANTHIER-SISSONS
HEWLETT PACKARD
Daniel coaches early-stage blockchain startups on how to excel in some of the most important skills: branding, storytelling, strategy and pitching. I love the way Daniel conducts his workshops - he proactively engages with participants, challenges them, and then creates fast feedback sessions towards the end. On behalf of CV Labs and ALL our incubatees, I want to thank Dan for igniting the fire in our blockchain incubator!
PAVEL JAKOVLEV
CRYPTOVALLEY ACCELERATOR
It's like they all come to life. Sometimes it's only small tips & tricks (e.g. on how you stand, your facial expression) but they can have a huge impact. This year, Dan was rated 5 out of 5 of all participating teams. What we appreciate most is that he does his homework before conducting the workshops. He always knows what teams, people participate, what they do and asks how they are doing on stage. I can highly recommend Dan for any kind of workshop when it comes to public speaking and presen
JULIA ROBLICK
TechFounders & Respond Accelerator
Facilitating Workshops for Corporates & Accelerators
April 30th 2019

Branding and Pitching Workshop - CV Labs

I've been invited annually to provide 3 workshops for the 10-week incubator. We usually start the program with a team-building half-day followed by my "Start with Why" half day workshop. In preparation for their Demo Day, I run a "Dominate On Stage" full day workshop complete with actual pitching and feedback sessions.

Location:

Zug

Switzerland

Hewlett-Packard Enterprises

View

April 12th 2021

Presentation and Audience Engagement

I run multiple workshops throughout the year from local teams to global leadership on various soft skills including effective setup and hosting of virtual meetings, providing trainings in multi-cultural settings and presenting on stage

Location:

Virtual

Virtual
Stellantis Star*Up Program
Mobility, Automotive
Forum EPFL
Student
UN SDGs, Circular Economy

BMW Foundation

View

May 19th 2020

Respond Accelerator

An in-person training annually to prepare these global responsible leaders to pitch on Demo Day to corporate leaders and social impact investors

Location:

Munich

Germany

October 24th 2020

EPFL Change Makers

This prestigious Swiss university invites me annually to launch the program through interactive games and vision building and then again at the end to close the program with a pitching/presenting workshop.

Location:

Zug

Germany