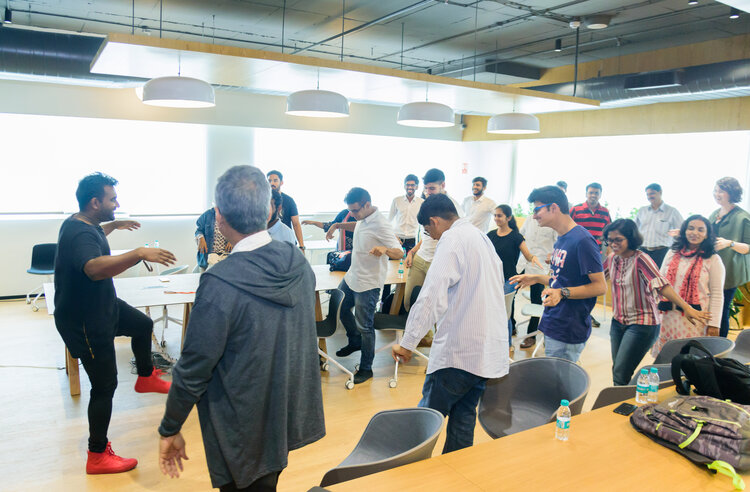 Interactive & Informative
Whether Zoom webinars with Fortune 500 companies or in-person trainings with accelerators in funky coworking spaces, be prepared to learn by doing. Group activities, personal challenges, worksheets and abundant sticky notes are part of half-day, full day and 3 day training sessions.
Popular Workshops
Diversity & Inclusion: The son of an Indian diplomat, I grew up in 10 countries on 4 continents building a sense of 'home' wherever I went. Turned into a TEDx talk, it interweaves anecdotes from my life being an 'alien' and covers themes of individuality, diversity, and community. Particularly geared at corporate and youth settings, this keynote encourages the notion of stepping out one's comfort zone in order to truly find yourself.
Start Now, Start Simple: The most motivational of my talks, this chronicles my story of being unemployed in a foreign land down to my last penny all the way to managing over $500 million funds and becoming an advisor to the National Government. A popular talk from teenagers to aspiring entrepreneurs, the talk is guaranteed to challenge people to start making their dreams a reality.
Evolve or Die: From individuals to startups to companies, everybody is competing for ever reducing attention spans of everyday people. Filled with stories of success and failures, Dan reveals the ingredients to stay relevant in a quickly shifting world. Specifically targeted at companies, this talk desires to get decision makers and employees to stay innovative and attentive to the market.
Opportunity in Crisis: The son of an Indian diplomat moving countries every 2-3 years, I've had to really develop my "Change Muscle". Whether a guest lecture via Zoom to college students or a workshop to entrepreneurs and founders, in this session we discuss the 3 steps to building your Adaptability Quotient and identifying opportunities for growth personally and professionally.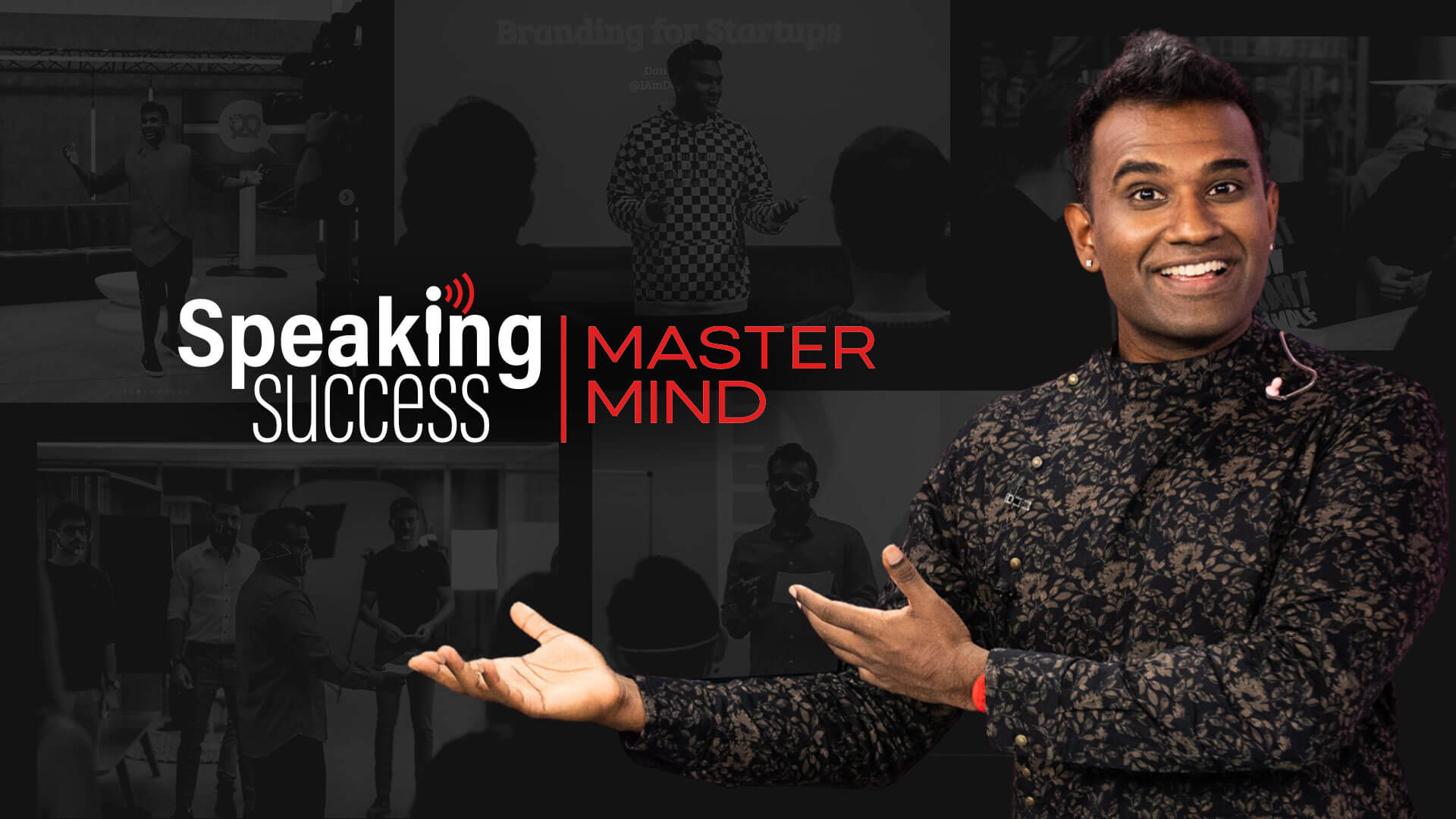 Speaking Success Mastermind
Coaches, speakers, influencers, business executives, entrepreneurs, and leaders, this group is for you. We are in the same tribe and I'm keen to share industry secrets and connections that will give you immediate results. Each bi-weekly masterclass is packed with deep-dive insights plus practical application by both me and a panel of speaking experts. All focused on your growth. Get involved so we can multiply your IMPACT!
Absolutely trans-formative experience for our presenters at the last minute. When the ship turns from a Face to Face event to a Live Virtual, we all scramble to make it work presenting in a little square video box instead of on a big stage. Dan helped make over 300 of our presenters get comfortable and ready to present live. The event was amazing because our presenters and our hosts were engaged, animated, and ready with all the tools they needed to move to a virtual world.?
MICHELLE LANTHIER-SISSONS
HEWLETT PACKARD
Daniel coaches early-stage blockchain startups on how to excel in some of the most important skills: branding, storytelling, strategy and pitching. I love the way Daniel conducts his workshops - he proactively engages with participants, challenges them, and then creates fast feedback sessions towards the end. On behalf of CV Labs and ALL our incubatees, I want to thank Dan for igniting the fire in our blockchain incubator!
PAVEL JAKOVLEV
CRYPTOVALLEY ACCELERATOR
Daniel as a mentor on the Bank of Ireland Accelerator Programme brought a real sense of high energy, focused commitment and great advice to our teams. Daniel is a true catalyst for positive change and start-ups need to be around that kind of energy. His session had high impact and was hugely positive for our teams and delivered with incredible passion and a real understanding of the life of a start-up. Great to have him in board as one of our mentors.
WAYNE MURPHY
BANK OF IRELAND
Facilitating Workshops, Branding Trainings and Accelerator Trainings
Incubator

Branding Workshop

View

April 30th 2019

Branding and Pitching Workshop - CV Labs

Conducted 2 workshops on branding, business plans and pitch training at Switzerland's first incubation program with a specific focus on early-stage blockchain startups. The one-of-a-kind blockchain incubator set to help founders with the technology and business aspects of running their own startup.

Location:

Zug

Switzerland

Change Makers

Bootcamp

View

October 24th 2020

EPFL Change Makers

Facilitating the first day of a debut programme for changemakers!

This programme is designed to support smart, driven, and curious students transform their ideas into reality. The EPFL Changemakers programme has been built to help ignite a spark – to plant the seed of innovation and help the students drive future change through their ideas.

Location:

Zug

Switzerland
CV Labs
Unicorn
EPFL
Bootcamp
Merck
Workshop
Startup Autobahn

Brainstorming

View

February 13th 2020

Innovation Workshop

STARTUP AUTOBAHN is the ultimate innovation platform that unites global young tech companies with the unrivaled tech expertise of Silicon Valley and the best of German engineering.

Location:

Stuttgart

Germany

Branding Workshop

Games

View

February 18th 2019

Branding Workshop @ Merck

Facilitating a Brand & Storytelling workshop for Merck Accelerator participants to help them articulate their mission, identify their target audiences, discover their brand values and culture and find their voice in a loud and competitive ecosystem.

Location:

Darmstadt

Germany

Incubator

Pitch Training

View

April 30th 2019

Branding and Pitching Workshop - CV Labs

Conducted 2 workshops on branding, business plans and pitch training at Switzerland's first incubation program with a specific focus on early-stage blockchain startups. The one-of-a-kind blockchain incubator set to help founders with the technology and business aspects of running their own startup.

Location:

Zug

Switzerland

Branding Workshop

Action session

View

February 18th 2019

Branding Workshop @ Merck

Facilitating a Brand & Storytelling workshop for Merck Accelerator participants to help them articulate their mission, identify their target audiences, discover their brand values and culture and find their voice in a loud and competitive ecosystem.

Location:

Darmstadt

Germany
CV Labs
Incubator
Merck
Workshop
Start up
Autobahn
Change Makers

Bootcamp

View

October 24th 2020

EPFL Change Makers

Facilitating the first day of a debut programme for changemakers!

This programme is designed to support smart, driven, and curious students transform their ideas into reality. The EPFL Changemakers programme has been built to help ignite a spark – to plant the seed of innovation and help the students drive future change through their ideas.

Location:

Zug

Germany

BMW

BMW Respond Accelerator

View

May 19th 2020

Respond Accelerator

The BMW Foundation Herbert Quandt and UnternehmerTUM are once again looking for founders of sustainable startups to participate in the RESPOND accelerator program.

Location:

Munich

Germany