Upcoming Events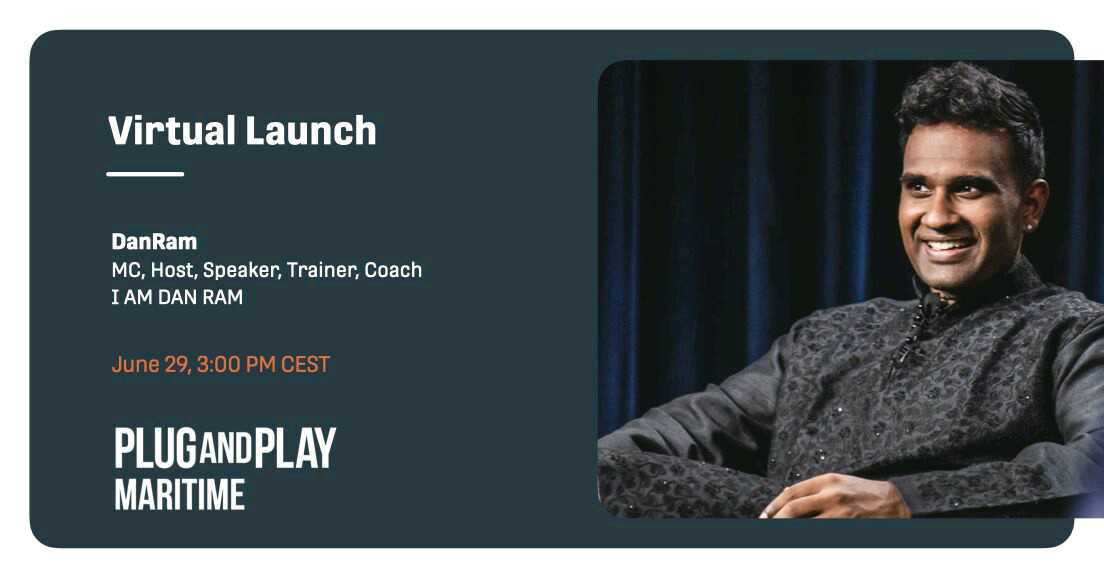 June 29th, 2021
Plug and Play
Closing Keynote Speaker for the launch of Plug & Play's new maritime program in Antwerp, Belgium. Plug & play run over 50 industry-themed accelerator programs a year all across the world with over 400 corporations and investing in 260+ companies a year. This particular program includes founding partners Euronav, CMB, Port of Antwerp, City of Antwerp and DXC Technology.
Location:

Virtual,

Belgium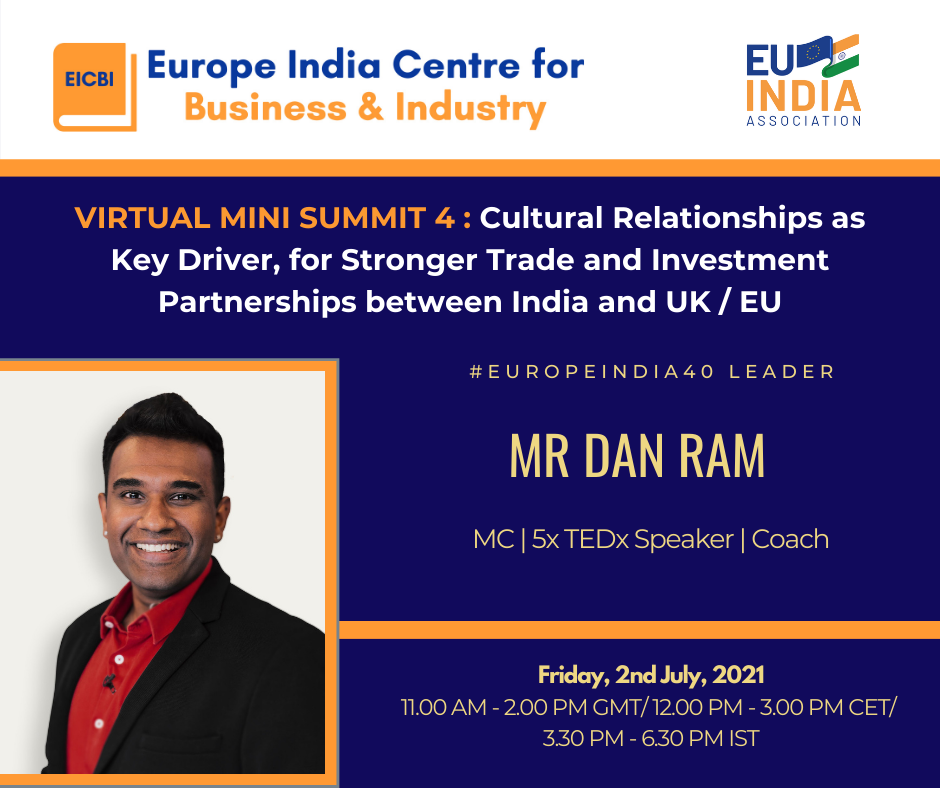 July 02nd, 2021
Europe India Centre for Business and Industry
Europe India Centre for Business and Industry organizes summits to help companies in Europe to understand and pursue the business activity in the Indian market and for companies in India to understand and pursue the business activity in the European market. Also, the team operates a network of subject matter experts, through our consulting company, helping decision-makers identify solutions to complex strategic challenges. Our impanelled team of experts possess diverse, domain-specific knowledge and have multicultural experience.

DanRam will be speaking about Cultural Relationships as a key driver, for stronger trade and investment partnerships between India and UK/EU
Location:

Virtual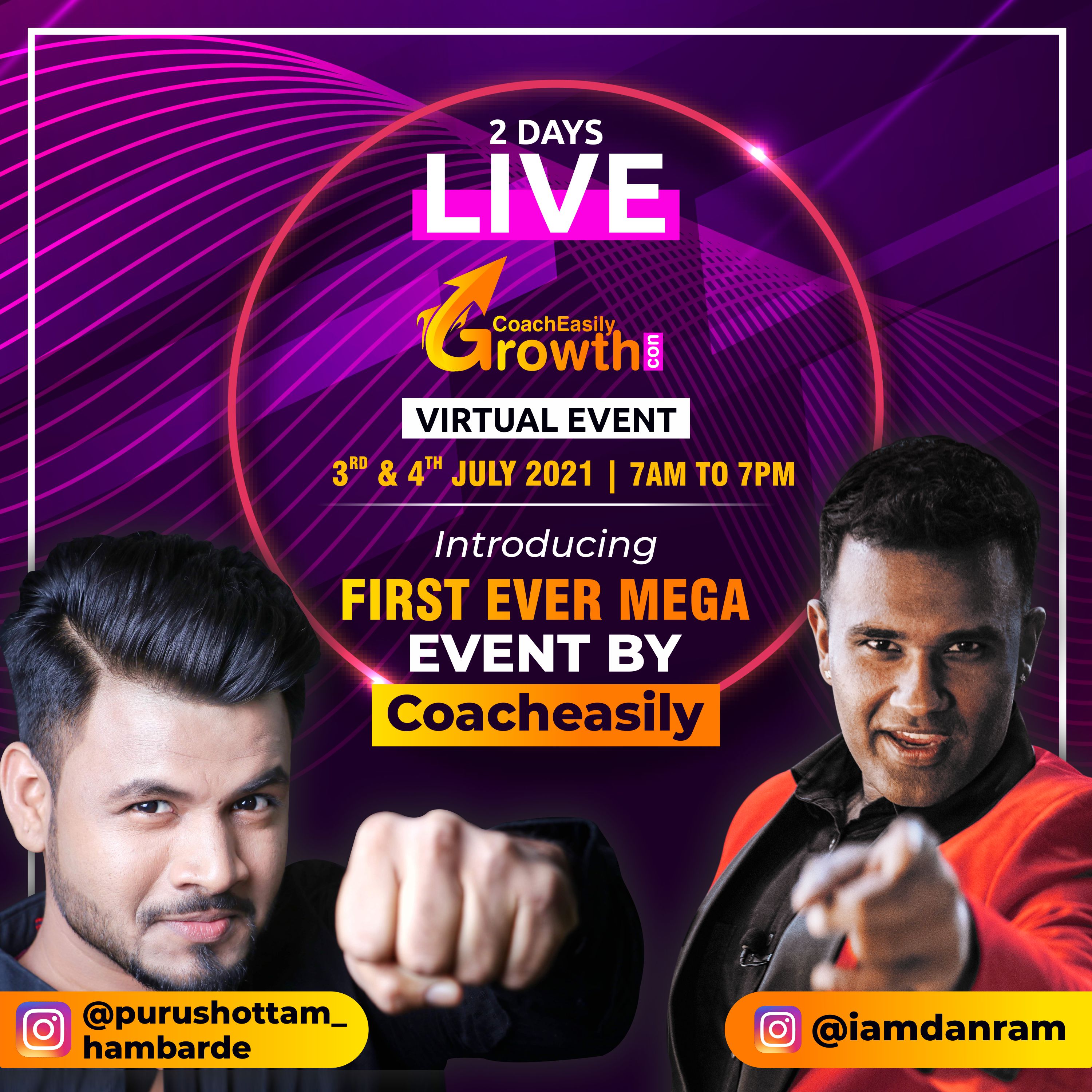 July 03rd, 2021 To July 04th, 2021
Purushottam Event
Coach Easliy Growthcon is only for the people who are a part of the Purushottam community and wants to launch their own digital course. The focus of this event is on expanding online business, concentrating on overall development, such as working on our minds and bodies, as well as expanding their knowledge by enhancing some skills and knowledge. Here, the team will provide a structured plan to people for scaling their online business over the next six months. Dan Ram to speak about START NOW START SIMPLE and grow an online business.
Location:

Virtual,

India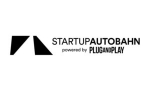 July 22nd, 2021
Startup Autobahn
Hosting Expo 9 - Infinite Innovation. This is the ultimate innovation platform that connects startups of all development stages with industry-leading corporate partners to pilot their technology and drive the ultimate goal — a successful production-ready implementation.
Location:

VIRTUAL Learn More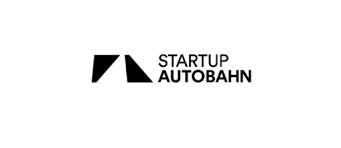 July 22nd, 2021
Startup Autobahn Expo 9
STARTUP AUTOBAHN is an innovation platform that opens its doors to entrepreneurship in the mobility sector. As STARTUP AUTOBAHN, we mediate between startups and large corporations, thus combining specific technical know-how with comprehensive automotive expertise. Within 100 days, the aim is to find out whether companies and startups can join forces in cooperation projects or investments.
Join for a day of new technologies, breakout sessions with experts, curated networking, and the opportunity to meet and discuss future collaborations with our program startups and corporate partners. This event is not open to the public.
Location: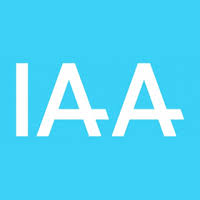 September 07th, 2021 To September 10th, 2021
IAA
Host for the brand new IAA MOBILITY 20211! This is the ultimate global, central, and interdisciplinary meeting point and intersection for questions that will make the future move forward.
The IAA MOBILITY 2021 from 7 - 12 September in Munich means mobility of the future, commitment to constant change, and a unifying platform for creation. Learn more about the mobility platform of tomorrow and your opportunities for participation.
Location:

Munich,

Germany

Learn More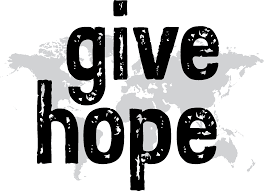 November 06th, 2021
Give Hope Gala
Honored to be returning for a hopefully in person gala in 2021. Give Hope Global aims to bring lifelong change through the power of the Good News, Good Health, Good Education and Sustainable Livelihood.
Location:

North Carolina,

USA

Learn More
Past Events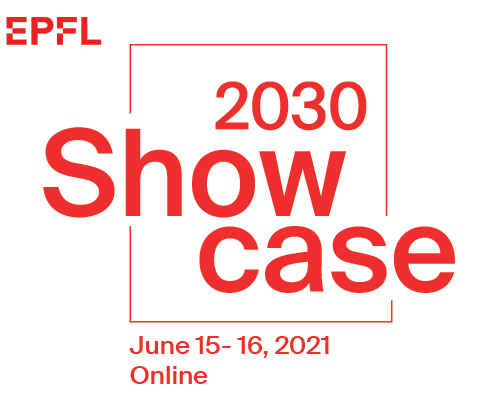 June 15th, 2021 To June 16th, 2021
EPFL Showcase
Tech4Impact is EPFL's flagship initiative for accelerating groundbreaking and sustainable technological solutions that create positive societal and environmental impact. We provide a common platform to engage with students, researchers, entrepreneurs, corporates, NGOs, international organizations, as well as society at large in order to realize innovative and entrepreneurial solutions that have the potential to achieve sustainable impact.
Location:

Virtual,

Switzerland

Find Out More
June 09th, 2021
EPFL Changemakers
Hosting the Demo Day for EPFL Changemakers - a 12 week program designed for students ready to boost their entrepreneurial, sustainability and leadership skills. This is the 2nd cohort open to all EPFL Bachelor or master students, wehther developing deep tech or non-tech, profit or not-for-profit projects.
Location:

Virtual,

Switzerland

Learn More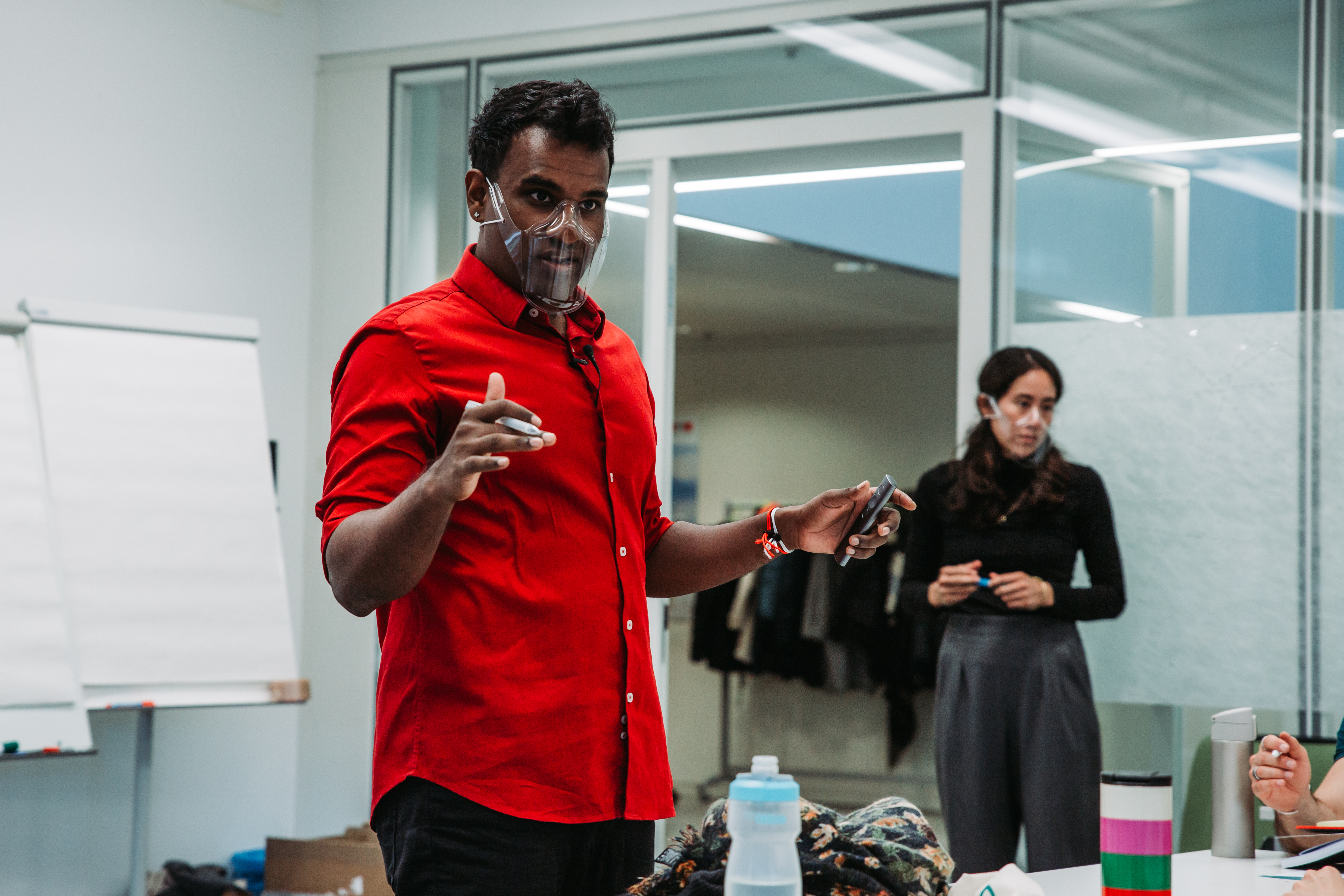 June 07th, 2021
Startup Pitch Training
Group and personalized training with each of the pitching teams for the EPFL Changemakers program. We'll be covering all the essentials on effective communication and presentation skills on camera with a particular focus on engagement and empathy.
Location:

Virtual,

Switzerland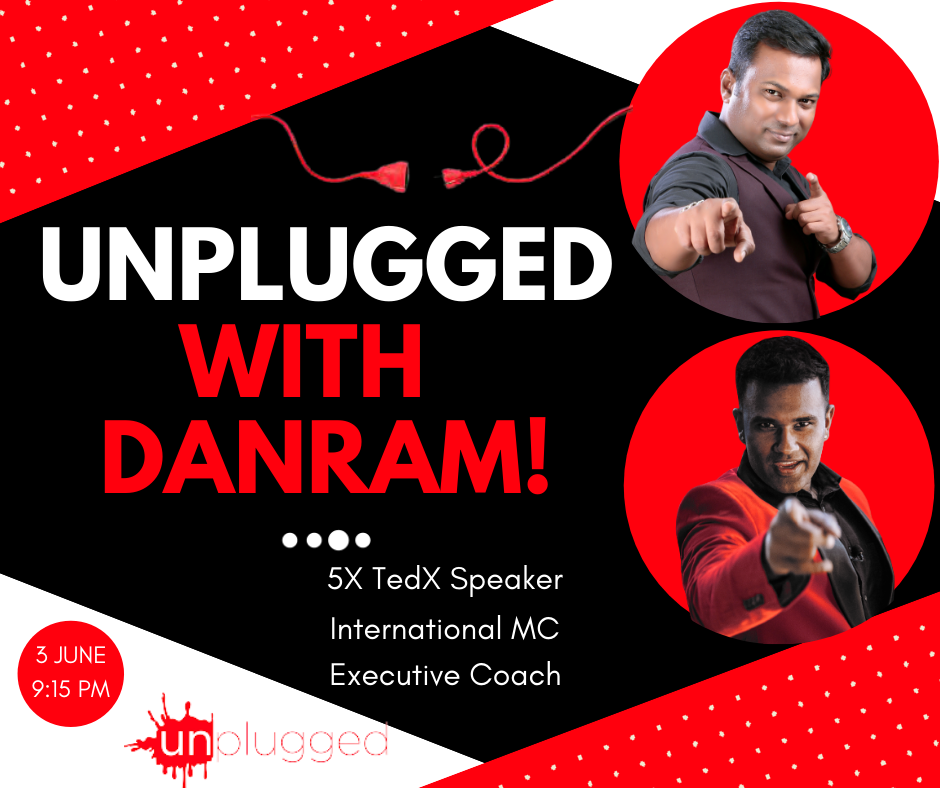 June 03rd, 2021
Unplugged with DanRam
Anchor Sanjay Potdar is one of the most sought-after anchors of India and his charisma, his voice, his energy is infectious. Once he is on stage he is king and he rules it. The audience absolutely enjoys his presence, his comic timing, his body language, and the complete Aura. He is a Guarantee of a smashing hit show. Getting Unplugged With DanRam!
Location:

Virtual,

India

For more info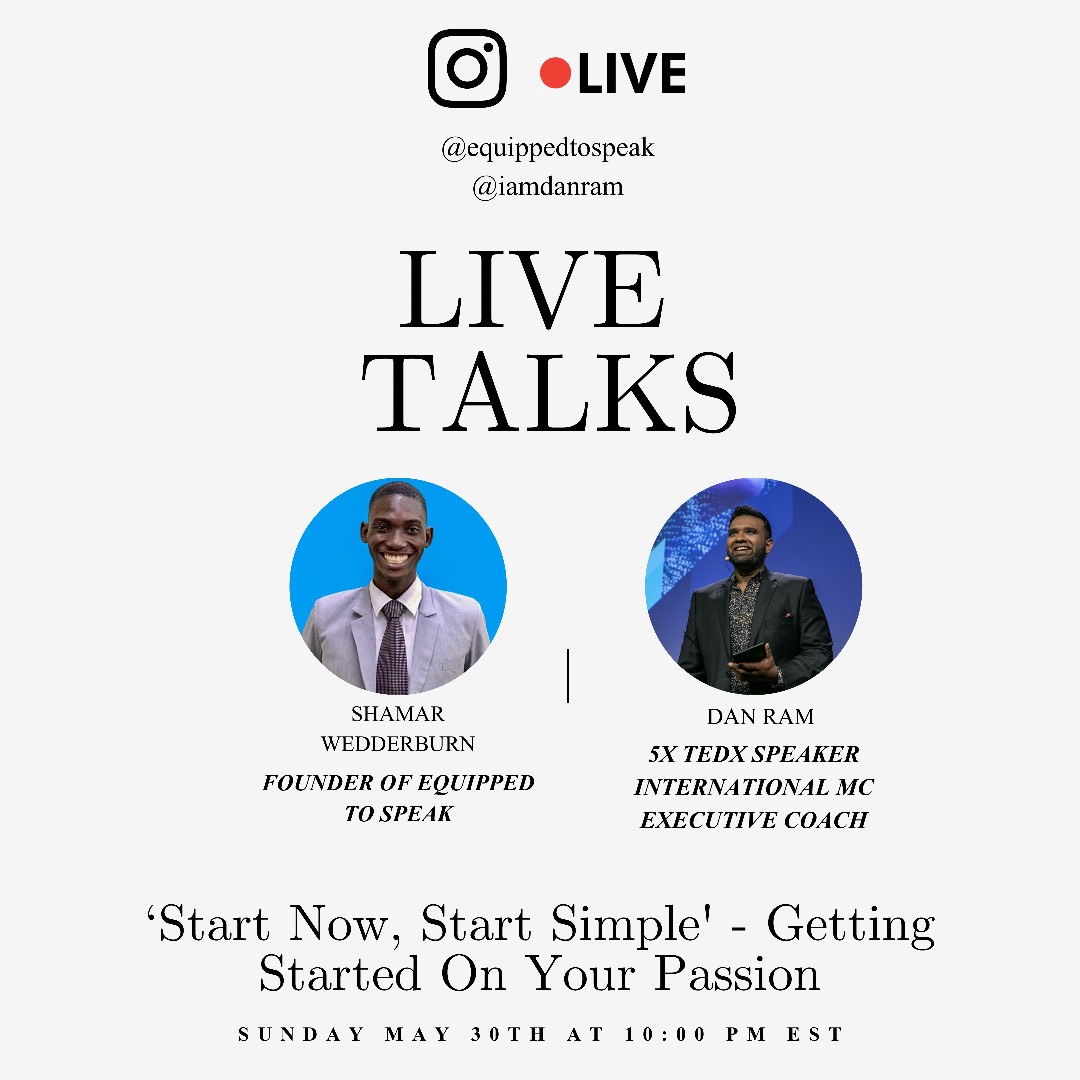 May 31st, 2021
Getting Started on Your Passion with Shamar Wedderburn
As a speaker, presenting from home is now my new normal - DanRam

There's no longer in-person faces to scan the crowd, and I'm missing the after-event greetings and chats ????. Everything about my approach has been altered but does that affect my effort or my preparation level?

Absolutely not. No matter the engagement, I adjust my tripod, layout my speaking notes, and tell myself I'm knocking this out of the park as a boost.
It reflects how I acknowledge that what I do has an impact on others.

Keep showing up, Honing, and OWNING your craft and your gifts. May you blow their minds with your presence
Location:

Virtual