(VIRTUAL) EVENT MC | HOST
"It's unbelievable how much passion, energy, talent, ideas, creativity and positive momentum DanRam brings to the show" - Bits & Pretzels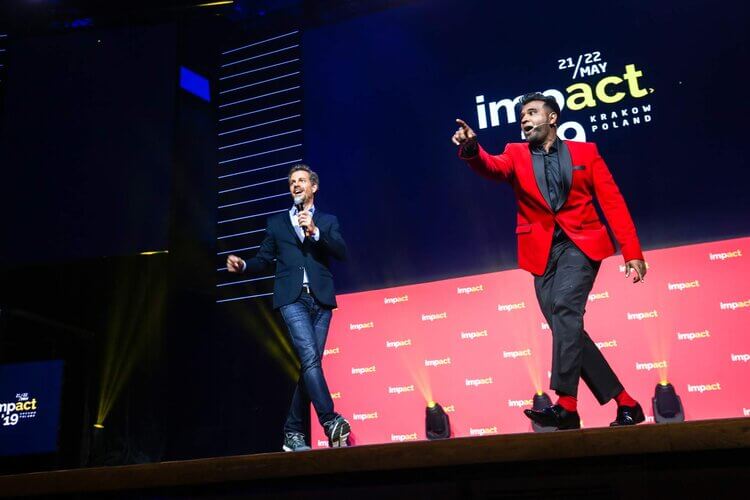 Energy & Engagement
Physical or virtual, my goal is to ignite your event with endless positive energy and dynamic engagement to co-create a memorable experience. I'm committed to maximizing your ROI and goals whether on stage or on screen.
You've got the keynote speakers and panel conversations ready to attract an audience, but ultimately my goal is turn your attendees to ambassadors of the event. Here's how I add value: Creating an authentic connection with your team, speakers, and audience so that we all work together as one.The glue stitching the micro segments together to achieve the macro goals and purposes for running the eventEffortlessly engaging audiences to keep attention and increase energy for maximum learning and benefit
I've Been Blessed To Host And MC Some Of The Biggest Startup And Tech Conferences Around The World Including World Economic Forum, SXSW, Web Summit, DLD, Bits And Pretzels, Slush, The Next Web And 50+ Others On 4 Continents.
President Barack Obama @ Bits And Pretzels
Whether It's The Most Influential Changemakers In The World Such As President Barack Obama, Sir Richard Branson, Reid Hoffman, Nico Rosberg, Jessica Alba Or Jake Paul Or Upcoming Raw Talent Such As Startup Founders, And Teen Presenters, I Love Shining The Light On Inspiring Stories And Great People.
NASA Astronaut Mike Massimino @ Startup Autobahn
Projects & Collaborations