Did you know that Linkedin has its own badge system and that it's a lot cooler than Twitter's blue check?
Social media platforms are noisy spaces and if you are trying to build your personal brand you want to stand out from the crowd to get your voice heard. To help you to amplify your ideas LinkedIn had an Influencer program that was an invite-only community featuring the foremost thinkers and innovators on the platform. That program has now been re-branded as LinkedIn Top Voices. The bad news however is that obtaining this badge is still invite-only but the good news is there are ways you can stand out from the crowd to get noticed by the Badge gods.
You have to be chosen to receive the new and exclusive blue LinkedIn Top Voice badge but it is now accompanied by the light gold Community Top Voices badge which can be earned. Making regular insightful contributions to collaborative articles on LinkedIn can earn you this badge for a specific skill on your profile.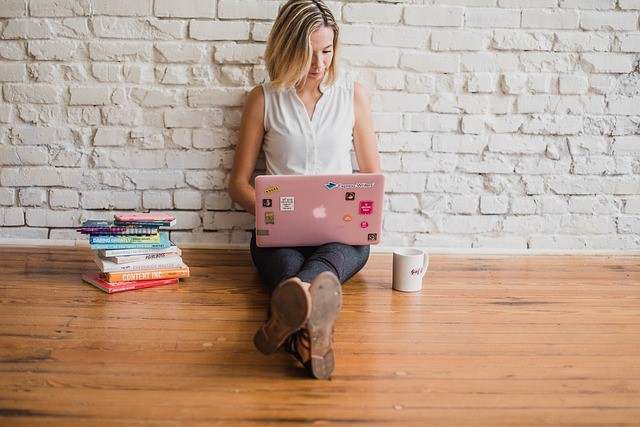 What are the benefits to your personal brand when you become a Top Voice on LinkedIn? Here are 6-quick benefits.
Become an established authority
Build relationships with leading professionals in your field
Your contributions will get algorithmic priority increasing your visibility to the people you hope to impact and connect with
Attract more clients and customers
Increase your credibility
Mastermind with other Top Voices in your Industry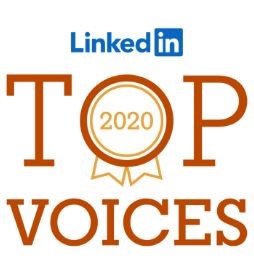 What is LinkedIn's Top Voice Badge?
Launched at the end of 2018 LinkedIn's Top Voices are chosen from the most active users on the platform who through unique content share valuable insights on a topic. With the addition of Top Voices, LinkedIn is aggressively positioning itself to remain the go-to forum online for professionals looking for the most innovative ideas and thoughtful virtual discussions. The quality of the Top Voice members is maintained by the platform's ongoing vetting process that looks for consistent original content that meets LinkedIn's high trust standards.
What is LinkedIn's Community Top Voices Badge?
The Community Top Voices badge is given to members who show they are subject matter experts through insightful comments on collaborative articles. These members can be identified by the light gold Community Top Voice badge on their profile. You can earn a Community Top Voice badge when other members find your contributions to an article for a specific skill to be among the most helpful. You can earn badges for multiple skills and these will be combined into one badge on your profile.
The Community Top Voice Badge is active for at least 60 days after you earn it but members continually finding your contributions helpful will allow you to keep the badge beyond the initial 60 days.
You can find collaborative articles on the "posts" section of the skill page. You can also see them in your feed when colleagues in your network contribute to these articles or if a new article is published to a skill page you follow.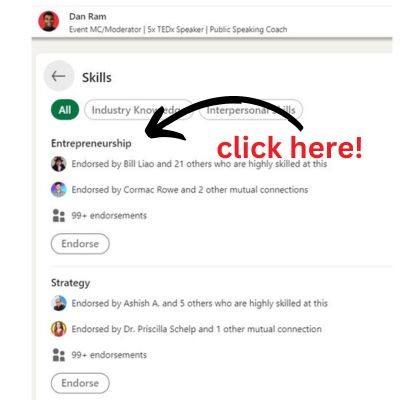 If you want to cut through the noise on LinkedIn and become a Top Voice in 2023 here a few things to consider
Share informative content
Be consistent on the platform
Use hashtags and interact with others using hashtags related to your niche
Share engaging visual and video content
Becoming a top voice on LinkedIn is not just about how many followers you have but it's more about the quality of the relationships you build and the value you provide to the community. It can be tempting to put all your time and energy into creating the most epic viral video, but this won't make people want to join you on your journey or feel helped on their own. Consistent, high quality content is always a better bet. Personal branding is a marathon, not a sprint. Play the long game and your community will get to know who you truly are; giving you a platform to make a sustained positive impact in your field.
---
---
Dan Ram ignites the stage as an in-person event and virtual event MC/ Moderator & Speaker at over 100 events a year. He has shared the stage with international luminaries including President Barack Obama, Sir Richard Branson, Reid Hoffman, Nico Rosberg, and Grammy-winning artists and celebrities. He has also been recognized as a Top 40 under 40 leader 2020 as well as a Top 100 Yale Alumni in Technology 2021. Level up your communication skills through his course and mastermind "Speaking Success". His passion is to inspire people with his motto 'Start Now Start Simple' in building a future we all want to live in.