Guest blogger: Rosemary Ravinal
Public speaking can be simple if you follow the rules. Besides, the mechanics of your natural assets used properly: vocal tone, body language, and personality; you must know and love your subject and leave your audience better for having listened to you. So why do more than 40 percent of people on the planet say they fear public speaking more than death?
Here are ten rules to help you break through the obstacles holding you back from presenting with ease and authority. Print these or copy them to your phone so you have them handy in any speaking situation. There is a short explanation of each rule at the end of this post.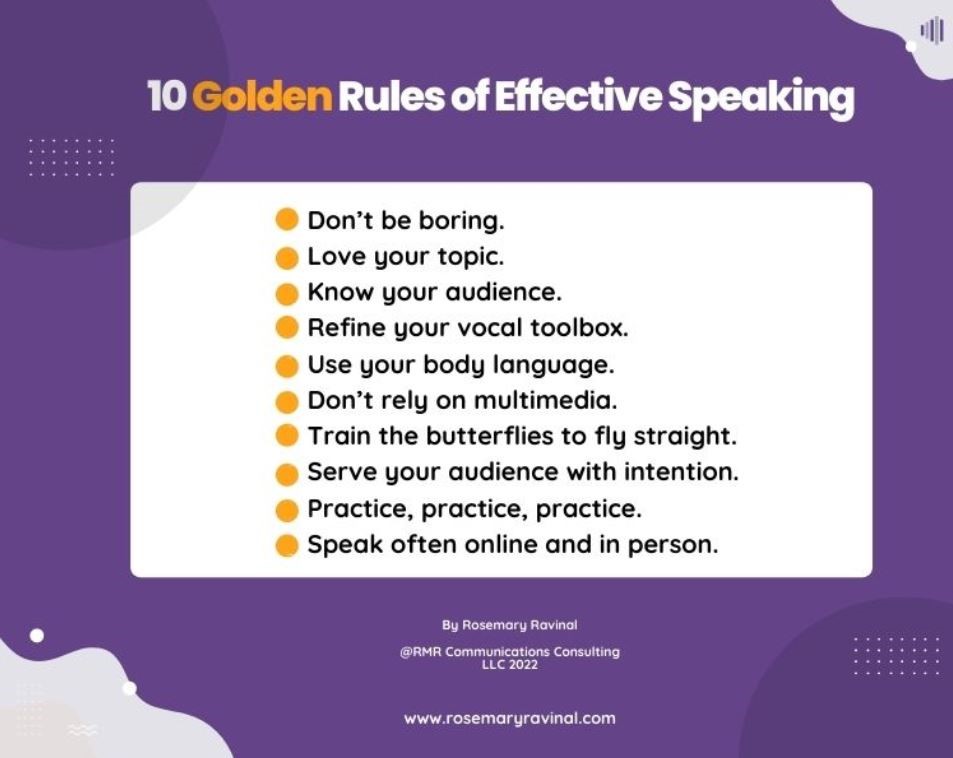 Let's dive a little deeper into the Golden Rules.
Don't be boring. Don't perform, inform. When you present, make it a conversation. Engage your audience. Project emotion and be yourself.
Love your topic. Speak from the heart, even if it's a quarterly sales report. Demonstrate authentic passion and your audience will respond with their attention and interest.
Know your audience. Who are they and what do they want? What is the itch you need to scratch to move them to adopt your idea?
Refine your vocal toolbox. Become aware of the quality of your voice—pitch, volume, pace, and breaths. And work to reduce or eliminate filler words.
Use your body language. Non-verbal gestures and facial expressions make up more than half of the impact of your communication. This is vital in-person and on Zoom.
Don't rely on multimedia. You are the star of your talk; the slides or videos are your backup singers. Use visuals wisely and don't let them hog the spotlight.
Train the butterflies to fly straight. Turn the nerves fluttering inside you into a dynamic and enthusiastic delivery. Think of it as adrenaline boosting your energy level on the virtual or physical stage.
Serve your audience with intention. What is your purpose? What is the big idea you want to convey? How will your audience benefit from listening to you?
Practice, practice, practice. Many presentation experts recommend an hour of practice for every minute of presentation. Practice by recording yourself and seeking feedback from a friend, colleague, or coach.
Speak often and anywhere. The more you talk in front of a variety of people the more fluid, poised, and confident you will feel. Toastmasters is a great way to strengthen your speaking muscles.
Let me know how these rules help you achieve higher levels of competence and enjoyment when you speak.
Download here: 10 Golden Rules of Effective Speaking Guide
P.S. Private coaching makes perfect. Office hours with Rosemary are available. She will work with you privately to polish your public speaking and boost your credibility online and in person, in English or Spanish. Schedule a discovery call with Rosemary and get started.
You can read more from Rosemary at her wildly popular blog
---
Rosemary Ravinal teaches business leaders how to shine on video calls and have more productive virtual engagement. As Founder/Chief Trainer at RMR Communications Consulting, she also helps executives master the art of public speaking, inspiring presentations, and authoritative media interviews online and in person. Her company's services are available in English and Spanish in South Florida and elsewhere.
---
---
Dan Ram ignites the stage as an in-person event and virtual event MC/ Moderator & Speaker at over 100 events a year. He has shared the stage with international luminaries including President Barack Obama, Sir Richard Branson, Reid Hoffman, Nico Rosberg, and Grammy-winning artists and celebrities. He has also been recognized as a Top 40 under 40 leader 2020 as well as a Top 100 Yale Alumni in Technology 2021. Level up your communication skills through his course and mastermind "Speaking Success". His passion is to inspire people with his motto 'Start Now Start Simple' in building a future we all want to live in.