Written by Guest blogger Tony Smith, Ph.D.
As a communication professor and consultant, I've noticed my students and clients often look surprised when I give them my honest, best advice for dealing with public speaking fear: "Don't care too much," I tell them. Based on the puzzled responses I often get from this, I make it a point to reiterate that people should care about themselves and public speaking to an extent (not caring enough, after all, can discourage success in nearly any endeavor). They just shouldn't care too much.
In my public speaking book, Finish Your Damn Speech! (this blog was inspired by my chapter on dealing with public speaking fear and anxiety), I point out that nothing in public speaking is a big deal unless the speaker makes it one. The trick, therefore, lies in not making it one.
Not caring too much about oneself and what others think (in essence, not being overly self-conscious) promotes a mindset in which speakers can be more at ease with themselves and their performance. It encourages speakers to face public speaking head-on, in a positive, sensible manner, and deliver their speech or presentation to the best of their abilities. Speakers who embrace this philosophy are more inclined to stay above the fray and focus on their message, and less likely to psyche themselves out in negative ways that can undermine their performance. Let's explore this philosophy in greater detail.
Don't Care Too Much About Yourself!
This isn't meant to sound rude, critical, or condescending. It's meant to help, and I think it's a good philosophy. I've always believed public speaking fear, at its core, is the fear of humiliation. It's the fear of embarrassing oneself by messing up in front of others. This, in my opinion, is because people often care too much about themselves and what others think of them. They're overly self-conscious in situations where it doesn't help and can actually make things worse. Public speaking is definitely one of those situations.
Not caring too much about yourself takes the weight of public speaking off your shoulders. It allows you to recognize and embrace your true potential, and deliver your speech accordingly. It encourages you to be yourself, enjoy the moment, and see public speaking for what it really is: a way to inform, persuade, entertain, and ultimately help numerous people at the same time. It promotes confidence and success, and it's how speakers set themselves free.
Give Your Speech Like a Duck!
Rather than being too self-conscious and caring/worrying too much about what others think, I recommend something better: Give your speech like a duck. Treat your fear, anxiety, and nervousness like rain when giving a speech – and let it roll off you like water off a duck. This means you shouldn't feel nervous about feeling nervous. It's okay to be nervous in public speaking situations. It's natural, in fact. Just let it roll right off you, along with any pessimism, self-doubt, or other negative feelings you experience. It's all just rain. The same goes for any mistakes you make when giving a speech. Remember: If everyone stopped doing something the moment they felt nervous or made a mistake, no one would ever do anything. Making mistakes, feeling nervous, and being afraid from time to time are all part of being human. Don't let this stop you from achieving your goals!
You mispronounced a word or used some filler words during your speech? Who cares? That's just a bit of rain. Keep going and finish your speech. You had a short lapse or dropped your notes? Who cares? It's just rain. Pick them up and move on. You're swaying and rocking a bit? Who cares? A little rain isn't going to stop you. You're a duck! Keep going, pay the rain no mind, and finish your speech!
In addition to public speaking, I've learned to apply the "Don't care too much" philosophy in how I live my life in general. If I cared too much about what others think of me, I wouldn't post silly videos of me and my friends singing country songs and having lightsaber battles. I wouldn't sit in the dunk tank, hold a duck in class, or compete in the annual pie-eating contest at the college where I teach. I probably wouldn't do any of these things. And I'd laugh less, be less happy, and enjoy life less as a result. I decided years ago that I wouldn't be confined like that, and it's one of the best decisions I ever made.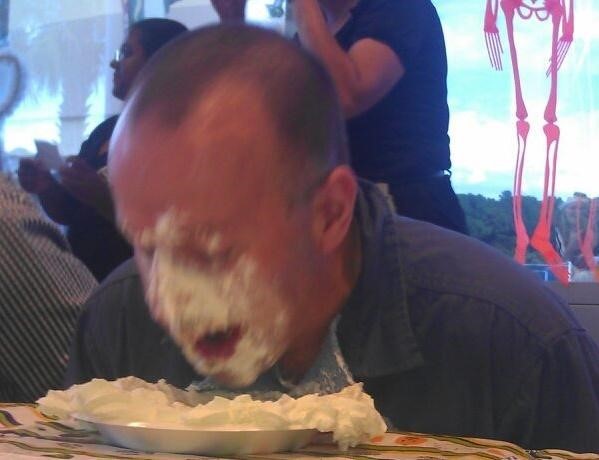 I hope you finish your speech or presentation, and I hope you enjoy the process from start to finish. Just do the best you can do, and don't care too much about yourself or worry too much about what others think of you. It's one of the best things you can do for yourself, your speech, and your audience.
Take care and good luck!
---
Tony Smith, Ph.D. is a communication professor at St. Petersburg College in Seminole, Florida. In April 2012, he was recognized as the third-highest-rated professor in the U.S. on RateMyProfessors.com. That same year, he was included in The Best 300 Professors in America, a book published by The Princeton Review. He loves teaching communication and public speaking courses, working with students, and helping them manage their fear of public speaking.
He's the owner of Public Speaking 411 Consulting and the author of Finish Your Damn Speech! and ZOOM LIKE A BEAST! (both available at Amazon). He's the editor of Aortic Heart Valve Replacement: Through the Dark Curtain; Sudden Cardiac Arrest: Back from the Dead; and Dayton Steam: 1983 – 1992, all by John Stibravy, Ph.D. (available at Amazon).
He lives in Dunedin, Florida, and enjoys music, movies, hiking, photography, poker, basketball, playing Magic: The Gathering, and rooting for the Seattle Seahawks. Connect with Tony here: Website LinkedIn YouTube


---
---
Dan Ram ignites the stage as an in-person and virtual event EMCEE & Speaker at over 100 events a year. He has shared the stage with international luminaries including President Barack Obama, Sir Richard Branson, Reid Hoffman, Nico Rosberg, and Grammy-winning artists and celebrities. Level up your communication skills through his course and mastermind "Speaking Success". If you want to make this the year that you master your personal brand, check out Dan's Full Service Personal Branding Agency. His passion is to inspire people with his motto 'Start Now Start Simple' in building a future we all want to live in.