Guest blog: Jennifer Espinosa-Goswami
Do you focus all of your attention on how to start your speech, but wing or fumble through the end of your speech?
There is plenty of good advice on fun and surprising ways to start your speech. However, as a public speaking coach, I think it's more helpful to determine how to finish your speech so your audience remembers you AND wants to take that next step.
Why is the end of your speech just as important (if not more) than the beginning?
According to Michael Port's book, The Referable Speaker, "audiences tend to remember two things: the moment in the speech which elicits the most emotional response, no matter where it falls, and the very end of the session."
Do you end your presentations in these ways?:
Say "thank you- it's been great!"
End with a quote by a thought leader in your field
Quickly mention your program name and mumble that folks can schedule a call "if they want"
Turn your back and point out your beautifully designed Prezi or Powerpoint slide
Start Q&A
The end of your signature speech is precious real estate, and should be the foundation upon which you build your entire speech. To be clear, the end of your presentation is approximately the last 5-10 minutes of a 60-minute presentation. Typically, I encourage speakers to have 3 main audience takeaways of 15 minutes each, plus an opening, road map, recap and closing.
You can download this structure with the Signature Speech template (https://bit.ly/signaturespeak), which also clarifies what speaking success means to you and your ideal audience.
Let's go over why these 5 closings are leaving your audience uninspired and unmotivated, as well as share better alternatives.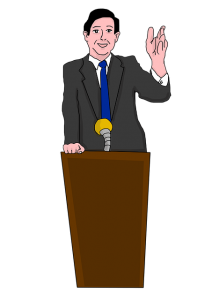 1. Thank you
Expressing gratitude for the opportunity to share your message is a good thing. Yet, your presence on stage is an energy exchange- what do you want your audience to give back to you after you share your time and expertise with them? Leaving them with "thank you" takes away their chance to thank you.
Better alternative: Ask for survey feedback earlier in your presentation, or have a way for folks to connect with you more personally post-event.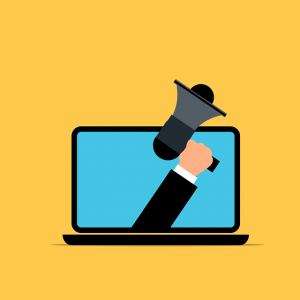 2. Quote from a thought leader
As a public speaker, you don't need to rely upon other people's content to be considered a thought leader. You are taking the stage for a reason, and you have a unique perspective to offer beyond what current thought leaders talk about. Stand in your own power as an expert, and don't rely upon quotes that may be cliche.
Better alternative: Ask for one audience insight or takeaway in the room, or chat.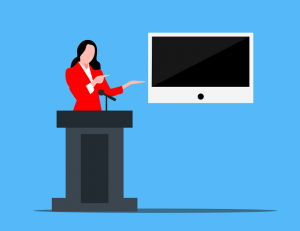 3. Drop your program
The worst mistake I hear new public speakers make is to go long on meaty content, then wait until the last 2 minutes of their closing to introduce their program or service. Then, they provide multiple ways to connect with them. This creates resistance and confusion. Unless you're an angel investor, you don't want to be pitched all day long.
When I work with clients, I encourage them to seed their program within the first 10 minutes of their presentation. Seeding means gently introducing it- not pitching it.
Think "in my Speaker Strategy Intensive, my client went from (problem) to (solution)" instead of "that is why you need to enroll in my Speaker Strategy Intensive- here's the link to buy!"
Better alternative: Gently introduce your program/book/service as part of your stories or case studies within your presentation.
4. Point out your Powerpoint
Plenty of speakers use slide decks extremely well, or opt-out entirely of any technology. No matter which route you choose as a speaker, your audience should be 100% focused on YOU in your closing remarks.
People buy from people, not things. Your slides are not there to take your place as a speaker- they are meant to enhance and visualize your content.
Better alternative: Black out your screen during your final thoughts, or have a contact slide that your audience can take a picture of to connect with you. Bonus! Have the audience text for your lead magnet or do a prize drawing.
5. Start Q&A
Nothing kills a beautiful speech more than saying "anyone have a question?" There are two scenarios that could result- the silence of the grave or being challenged by someone in your audience.
That doesn't mean you should lecture your audience for the entire presentation, and avoid any questions. People want to participate during the presentation, not as an afterthought or when they have 1-2 minutes in between speakers to gather their thoughts.
Better alternative: Add questions into your transitions between your main point, or in the messy middle of your presentation when energy may be low.
Don't get me wrong- I have been guilty of all 5 of these closing mistakes, sometimes more than once in the same presentation! After presenting hundreds of presentations, I have found alternatives that leave my audiences ready to take action.
Which of these 5 mistakes would you like to improve for your next speaking engagement? Your audience will thank you!
---
About Jenn:
Jenn Espinosa-Goswami is a holistic public speaking coach who helps coaches, counselors, healers and authors leverage their expertise as paid speakers. A former Toastmasters International officer and graduate of the Masters of Leadership program at Augsburg University, Jenn discovered her own voice after sharing her 100 pound weight loss story on Authority Magazine, Thrive Global, Women's Health, Reader's Digest, Prevention, and numerous podcasts. Jenn is passionate about supporting small business, and has served on the boards for both Women Entrepreneurs of MN and the MN chapter of International Coaching Federation (ICF). When not sharing public speaking tips on her YouTube channel, Jenn can be found on one of many lakes in Minneapolis. Connect with Jenn at https://linktr.ee/jennspingo
---
Dan Ram ignites the stage as an in-person event and virtual event MC/ Moderator & Speaker at over 100 events a year. He has shared the stage with international luminaries including President Barack Obama, Sir Richard Branson, Reid Hoffman, Nico Rosberg, and Grammy-winning artists and celebrities. He has also been recognized as a Top 40 under 40 leader 2020 as well as a Top 100 Yale Alumni in Technology 2021. Level up your communication skills through his course and mastermind "Speaking Success". His passion is to inspire people with his motto 'Start Now Start Simple' in building a future we all want to live in.